Customer Appreciation Day!
November 16, 2019 9:00am - 6:00pm
Here's to YOU! Our customers! There will be FREE HOT DOGS & CHIPS!
 
 - $2 Budlight and $2 Catawba Craft Beer!
 - Additional 15% Off END OF SEASON GENERAL MERCHANDISE!
 - Employee Pricing on Tires when Installed at Blue Ridge Harley-Davidson
 - First 25 People at the front door at 9AM will get an H-D Poster!
 
 IRONe Demo Track:
 - Set up time from 11am to 3pm
 - Will be a supervised and closed off track for safe riding
 - 2 Bike Sizes Available: IRONe12 and IRONe16
 - For Kids from 3 to 7 years old
- Helmets will be provided

Come hang with us right here at Blue Ridge Harley-Davidson! The only place in the mountains worth riding to!

*Employee pricing on tires must be (In-Stock) and installed at Blue Ridge Harley-Davidson. Cannot be combined with any other offer.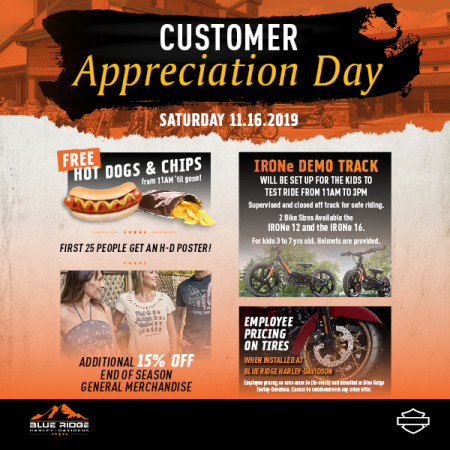 Back to previous page